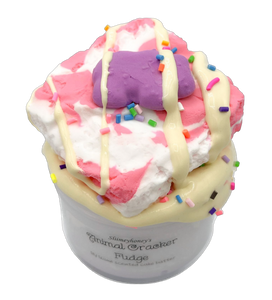 Size: 6oz
Texture: This slime features a glossy lavender cream colored slime base and comes with a fudge clay bar, circus animal cookie clay piece, and yellow slime topper to decorate with and mix into the slime. The end result is a fluffy and inflating clay slime that makes great sizzles.
Scent: Cake Batter
What You'll Receive: 6oz Animal Cracker Fudge base, 1oz cream slime topper, 1 animal cracker fudge clay bar, 1 circus animal cookie clay piece, rainbow sprinkles
Note: Slime is not edible. Slime is recommended to children above the age of 8 and with adult supervision. Keep slime away from clothing, furniture, and carpet. One slime care sheet and bag of borax will be provided with every order so slime can be maintained. Pre-made activator spritzers are available for purchase as well. For more info and instructions on maintaining slime, please review our FAQ page.