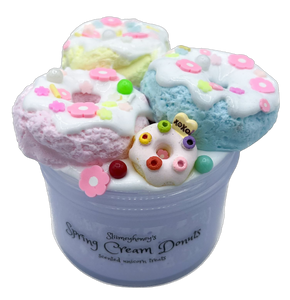 Size: 6oz
Texture: This slime features a glossy semi-clay base texture and comes with 3 colorful pastel donuts and white icing slime topper to decorate with and mix into the base. The end result is a fluffy and smooth butter slime that inflates a ton, makes amazing sizzles, and feels like you are playing with a marshmallow!
Scent: Unicorn Treats
What You'll Receive: 6oz Spring Cream Donuts base slime, 3 clay donut pieces (one yellow, one blue, one pink), 1oz butter slime topper, various spring candy sprinkle set, 1 fruit loops donut charm
Note: Slime is not edible. Slime is recommended to children above the age of 8 and with adult supervision. Keep slime away from clothing, furniture, and carpet. One slime care sheet and bag of borax will be provided with every order so slime can be maintained. Pre-made activator spritzers are available for purchase as well. For more info and instructions on maintaining slime, please review our FAQ page.